Find The Perfect Turf For Your Adelaide Home
Adelaide's artificial grass market is booming, and as climate change makes sustainable natural lawns increasingly difficult to maintain, people have begun to look at artificial grass. At Just Quality, we provide the highest quality turf in the Adelaide market, with minimal life disruption and making it as environmentally friendly as possible. So, here's how to get the best artificial grass for your home;
Budget:
When it comes to bigger purchases such as a car, house, or improving your home, price and quality should be the top priority. The first step is to set a budget, as this will determine the type of turf to choose. Sometimes it's easy to look at a cheaper option, but in the long run, it won't be worth it as the quality will deteriorate quickly over a matter of time, and you'll be forking out even more budget than expected. 
Much like any big purchase (like a car for example), artificial grass is an investment in the long term. They not only have minimal maintenance requirements, but they also add to the value of your property. Plus, of course, saving money on water bills. Customers frequently ask if our grass is a worthwhile investment, and we can confidently say: Yes. We've been providing thousands of South Australian homes with our quality range of artificial lawn. 
The money saved on yard maintenance and water costs over time will add up, and you may even be able to notice right away. While the price of our artificial turf may appear exorbitant now, it will definitely pay for itself over time. Here at Just Quality, we understand the cost of living and that things can get expensive. This is why we offer multiple finance options, plus we have monthly promotional offers. No matter which month you purchase our lawn in, you'll still be saving money regardless. We call that a win-win!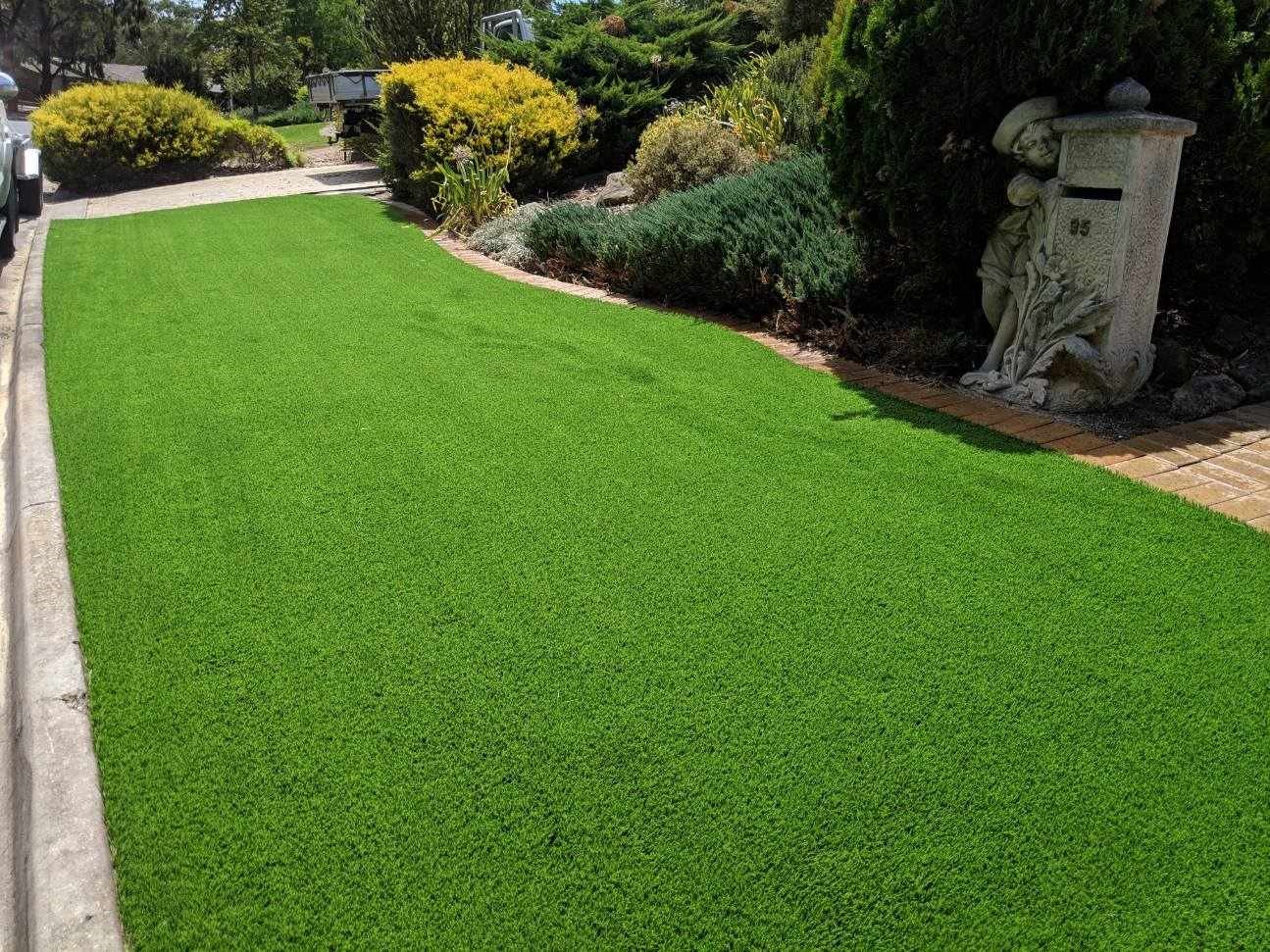 Understand Artificial Grass Terminology:
In this section, we'll explain some terminology so you can understand product specifications. Of course, if you get stuck or need clarification our sales consultants are more than happy to explain in further detail. 
Our artificial grass uses only three materials: polyethylene, polypropylene and nylon.
Polyethylene is the most commonly used because of its balance of versatility and durability, aesthetics and softness
Polypropylene is commonly used for thatch layers on greens and landscape grasses.
Nylon is the most expensive and durable yarn material, but it is not soft.
Density is also called stitch count. A denser stitch count means higher durability, quality and realistic looking artificial turf.
Face weight refers to the weight of a turf per square meter of material. The heavier the face weight, the better the quality of artificial grass and the more durable it is. However, the face weight does not include the weight of the backing material.
Now you know a bit more terminology and what goes into our high quality artificial grass, here's the next step; 
What are the characteristics of the best artificial grass?
Our artificial lawn can withstand heavy traffic and usage, but before making a decision, you'll still need to consider a few things such as what you'll be using it for. Are looking to use it for lots of play time? Do you have any pets? Do you want to use it for sport? Do you want it for just the aesthetic? As we have a range to select from, we'll be able to guide you to the perfect lawn for your home depending on what kind of usage you want. 


Good quality artificial grass always has a lot of weight. In general, the higher the mass the heavier the turf is, and the denser your grass, the more durable it will be.
 
High-quality artificial grass tends to have good reliability. You want a sod that won't melt in the heat and retain its original shape. You also don't want its colour to fade easily with constant sun exposure, especially in the SA climate. 
Just Quality offers all of these characteristics across four different types of lawn to choose from, including the hardy lawn, the weekender lawn, the cool summer lawn, and the sports pro lawn. To book in your free on-site assessment and measurement, call us on 1300 813 813 or visit our website here to make an online enquiry. 
Check out our other blogs that might interest you; 
How To: Clean Your Artificial Turf
How To: Get Rid Of Weeds In Your Artificial Turf