Simple Process, Hassle Free!
When it comes to projects for your home, there's a bit of a process before getting your next home improvement upgrade. At Just Quality nothing is off the shelf, meaning everything we make here is completely custom-made for each individual.
We have a variety of options for each product, as we believe everyone deserves to have their dream home improvement product exactly how they want. It's as easy as calling us, or we can call you after you enquire online, at our shopping centre booths or booths at various shows. Simple? That's because it is! Here's the full breakdown below of our process and our products;
Your Enquiry
Please submit an enquiry, either online, in-person or by calling us directly on 1300 813 813. You can enquire via our website or any of our socials, which takes practically no time at all (less than 30 seconds to do). We also have a fast turnaround time so you'll get a call soon after you enquire. Hooray!
Getting Booked In
After making your enquiry, you'll then speak to one of our lovely appointment setters who enjoy helping people just like you to book a free on-site assessment and measurement with one of our design consultants. We accommodate all sorts of schedules, including 9-5 and shift workers. Generally, we can make anything work as we work 6 days a week (Monday-Saturday). Plus, we extend our hours once daylight savings comes back around too.
It takes no longer than 10-15 minutes to set up and arrange a time that works best for yourself, or yourself and your partner. Once you make an appointment, our sales manager will call closer to the day of the appointment to ensure that time and day still works for you. If you need to reschedule an appointment, you can contact us on 1300 813 813 and speak to one of our appointment setters, and they can change this to a better date for you.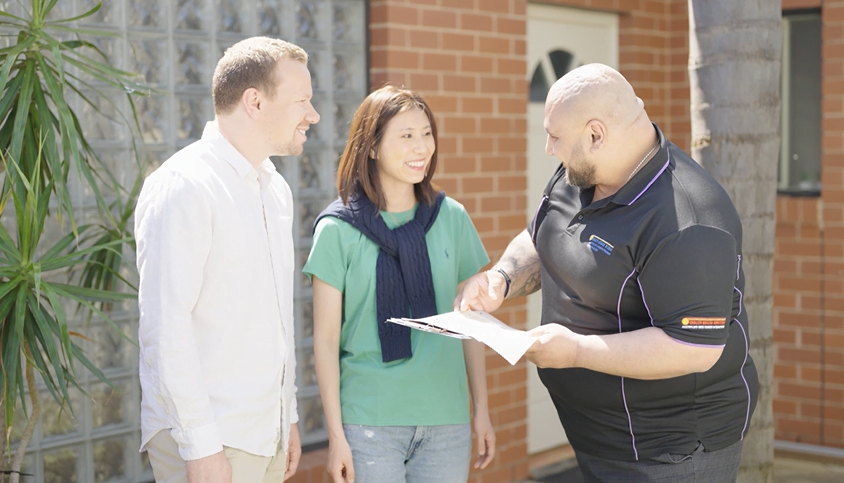 Free On-Site Measurement And Assessment
One of our design consultants will visit you on-site at your home, where they'll measure and assess your space. Then, they will brief you about the specific product you're interested in. From there, selections are made regarding a multitude of customisations, such as colour, size, and fabric for instance.
This free on-site assessment can take anywhere from 60-90 minutes, as there's quite a lot to go through. We want to ensure all parties involved in the project have all the information before making a big decision for your space. Unlike some companies, we don't just give a 5-minute quote without giving you all the details. We believe in being as thorough as possible and providing you with high-quality products to last for years. After this, our design consultant will give you a quote for your project.
Product Installation Is On The Way
Once you're happy with your selection process with our design consultant and confirm to go ahead with it, your project is underway! Our production team will then be with you every step of the way and will arrange a day and time for a check measure, and then installation.
Installation And Beyond
Depending on the scope of your project, installation can take anywhere from an hour to several hours. If you have any further questions regarding warranties or need to change the day/time of check measure or installation, you can call us on 1300 813 813 and one of our friendly team members will assist you. Our products are custom-made in SA, resulting in a generally fast turnaround time for minimal life disruption.
Enjoy Your New Home Improvement Project!
So far we've helped over 5,000+ South Australians achieve their home improvement dreams since starting Just Quality back in 2015. Let us help you make your home improvement dreams become a reality!