White vs Off-White
Plantation Shutters are a popular sleek, stylish modern household essential used by thousands of South Australians. They have a multitude of benefits and uses, including shade and privacy control. Of course though one of the biggest commodities of Plantation Shutters is their shade of colour, and their aesthetic. Specifically, white and off-white to complement or contrast modern homes. If you're unsure what the differences are, that's okay! That's why we're here to help tell you the differences between our white vs. off-white plantation shutters, plus the best places to use them.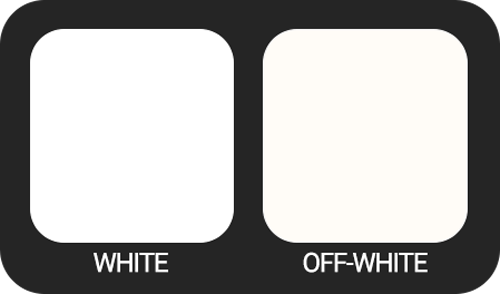 White
White is the standard shade that you'll likely see in everyday living, including homes and offices. From printing paper to cars, this white is the standard default. White has a fresh and brighter look to it, and it also gives a sense of space and highlight in your area. Of course, there is no wrong or right way to use this popular go-to colour, but here are a few examples of where our white plantation shutters are best suited with;
Any wall colour – The white will act as a highlight of the room.
Brick, specifically red or orange.
Wooden furniture.
Décor – The white will likely match with any décor you have, especially lighter colours (if all or most of your décor is white, it'll blend in).
Our white plantation shutters will look great in any room, but more specifically aesthetically pleasing in living rooms, bedrooms, bathrooms, and laundry rooms.
As white is a neutral colour, our plantation shutters will easily fit into your personal design. Plus even if you switch things up a bit and swap your décor or colour, it'll still work.
Off-White
Off-white at first glance may look identical or extremely similar to white, but upon further inspection, you'll be able to see the difference as per the image above. It's almost like a very light cream white. As mentioned above, plain white is the default and what you'd see in everyday places. Off-white on the other hand isn't the default 'white' colour, as it's used for more aesthetic and design purposes. It's white but not quite white! Again, there isn't a wrong or right way to use this colour, but here are some of our picks and tips on where our off-white plantation shutters will look best in your home;
Off-white is an ideal choice if you're looking for something less intense around your space. White for example can act as a highlight in the room, while off-white can act as a calmer colour with your décor.
Wooden furniture.
Against stucco walls, it's bread and butter with off-white.
Using off-white can give your home a more 'beachy' look.
Works against any wall colour, especially a navy blue, dark red, or dusty rose.
Our off-white plantation shutters will look great in any room, but more aesthetically pleasing in living rooms and bedrooms.
As off-white is a neutral colour, it will match pretty much anything, especially if you're going for a nautical palette (such as navy blue and maroon). White and off-white can work together, but it may come across as 'dirty' depending on how you arrange it.
Here are a few inspirations with our white and off-white Plantation Shutters;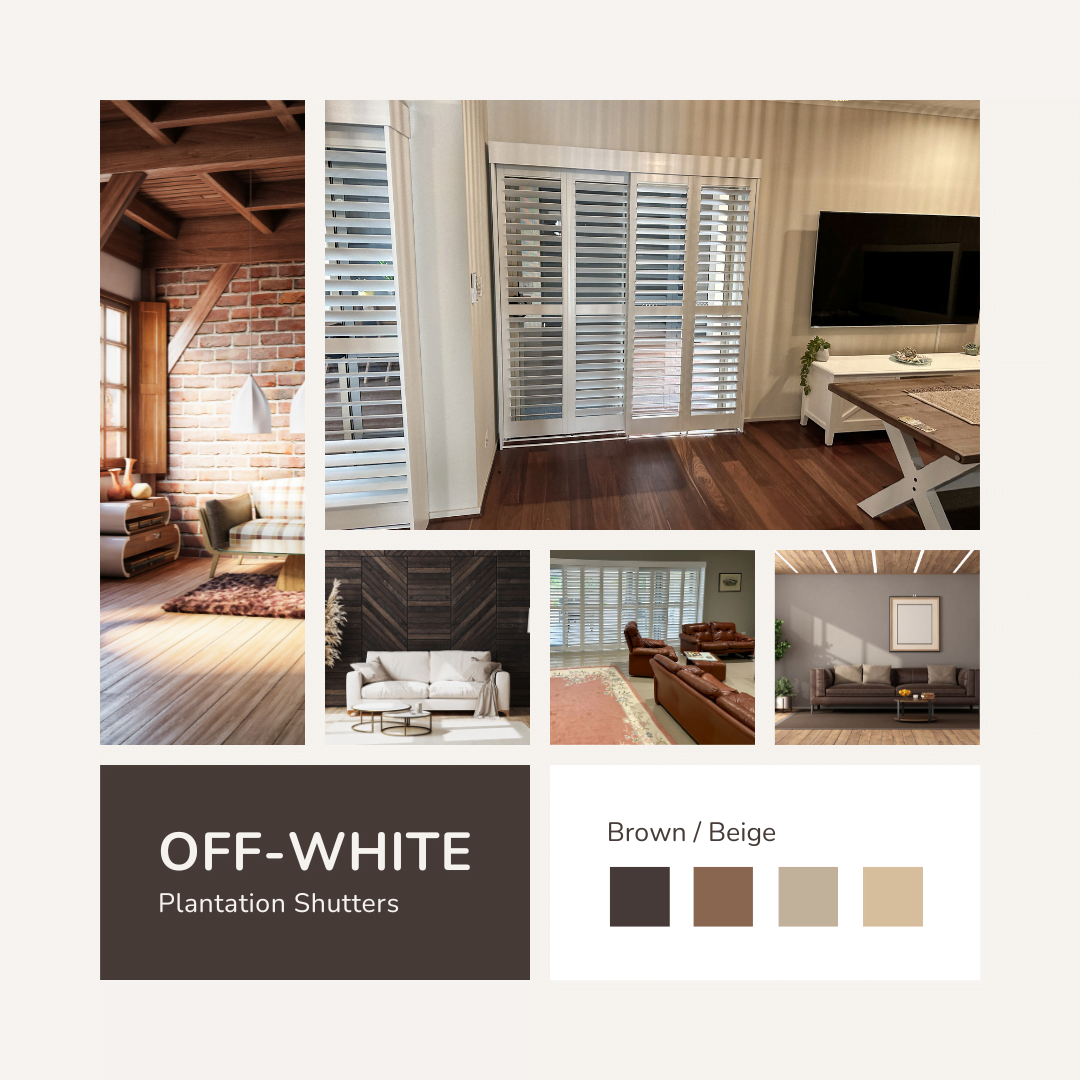 Brown and beige with our off-white plantation shutters can create a neutral, tonal effect.
If you're looking for a simple, yet avant-garde atmosphere to your home, this is the perfect combination to achieve that.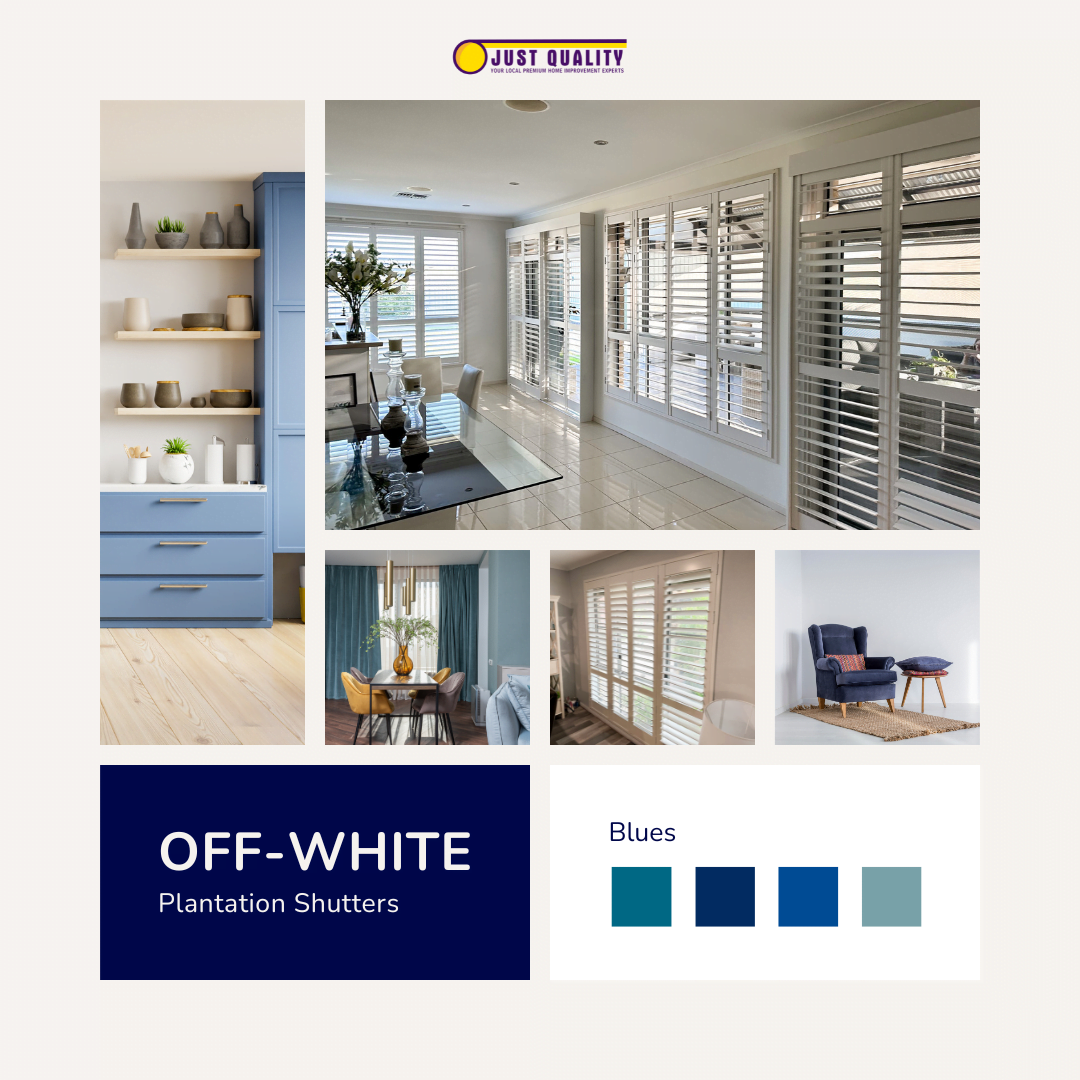 Pairing different shades of blue with off-whites can create a nautical, seaside feel while evoking a sense
of calmness. This is perfect for those looking to create a beachy, surfy home.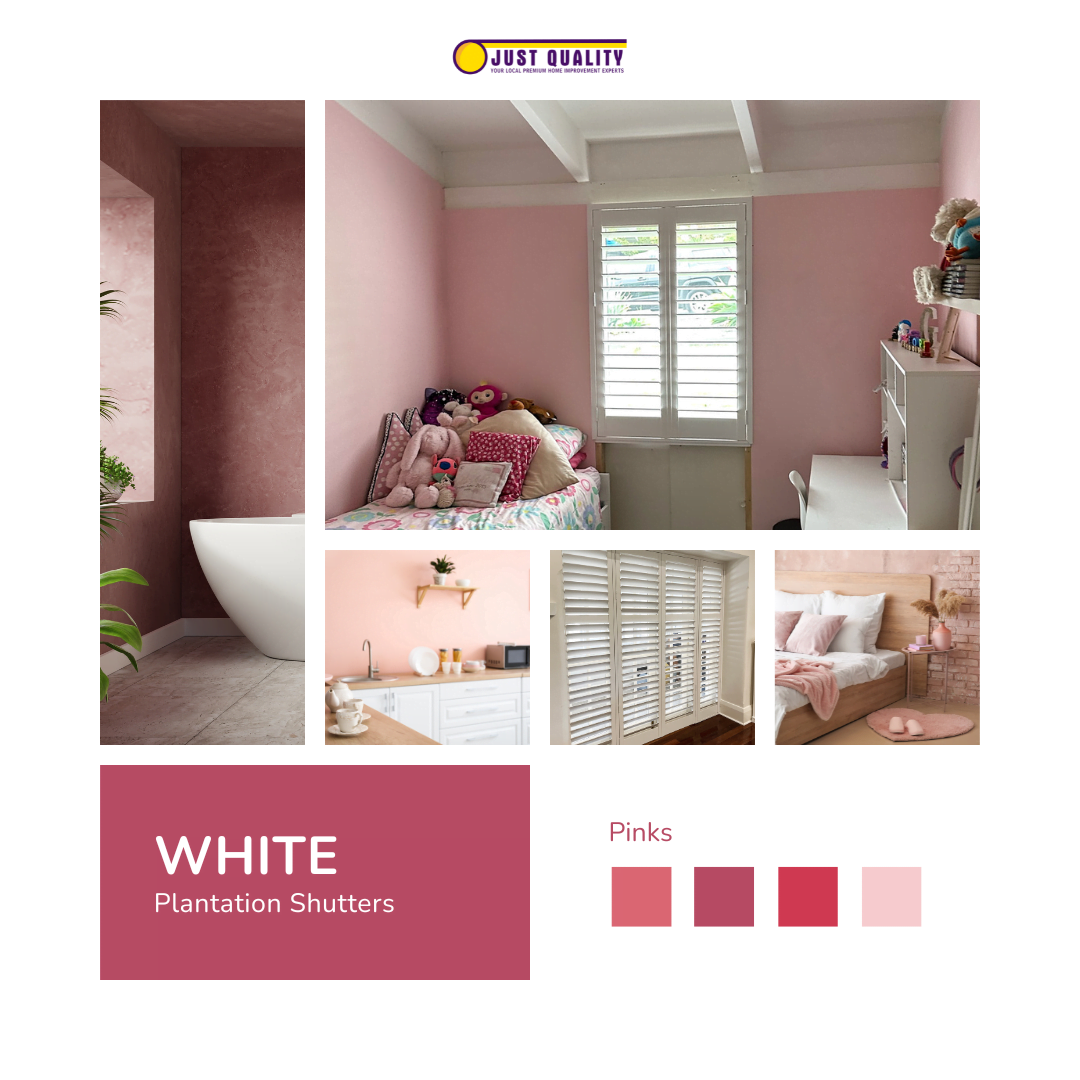 Pink and white will give your home a warm and inviting feel to it, while creating a comforting space in
any room. It also elicits love, kindness, and freshness in your space. Pink is the new black!
Oranges and yellows with our white plantation shutters provoke a warm, joyous expression.
It's especially popular in the more social interaction areas of the house, such as the kitchen or living room.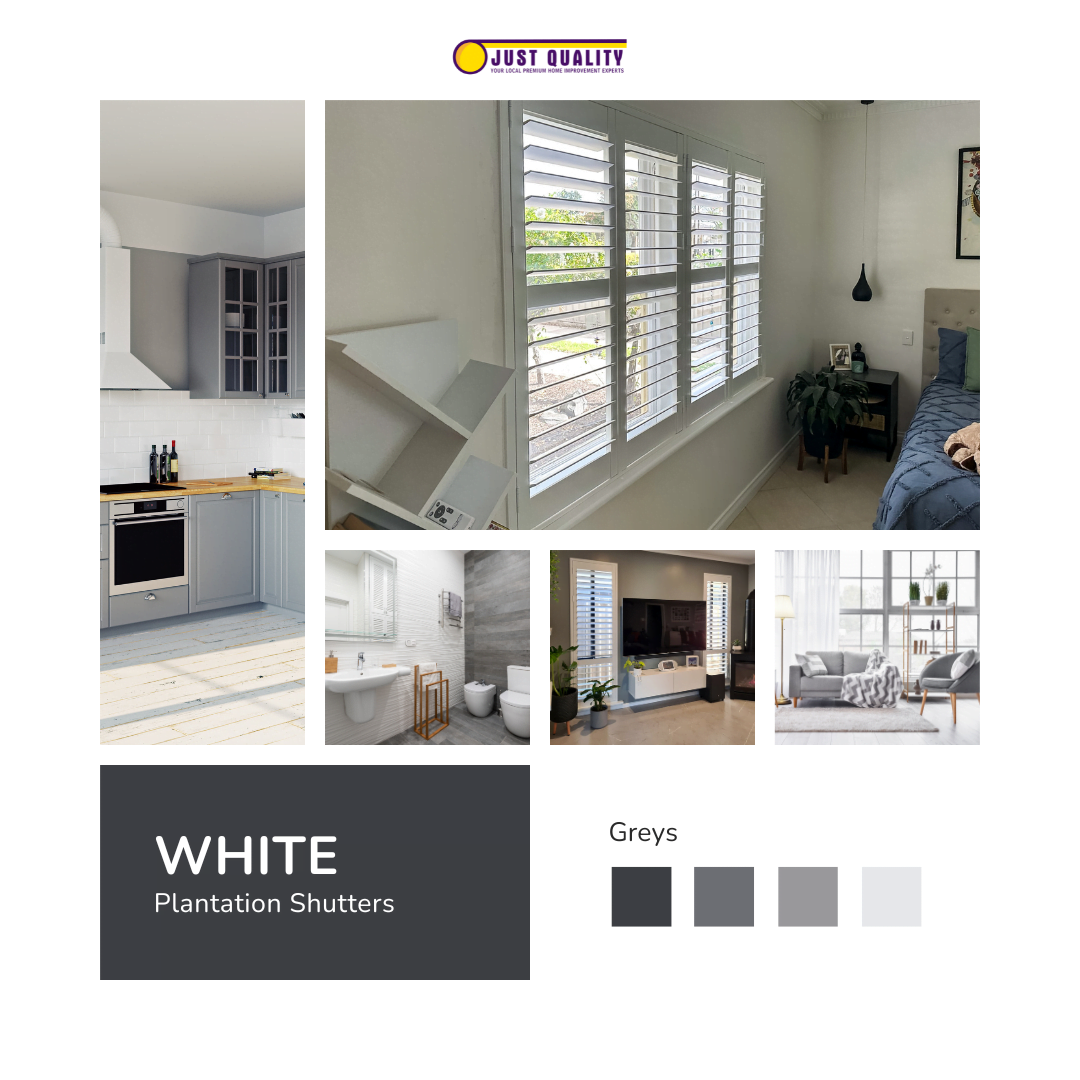 Grey is great for simplicity and neutrality, and by pairing it with white you can brighten your
space while maintaining a modern feel to it.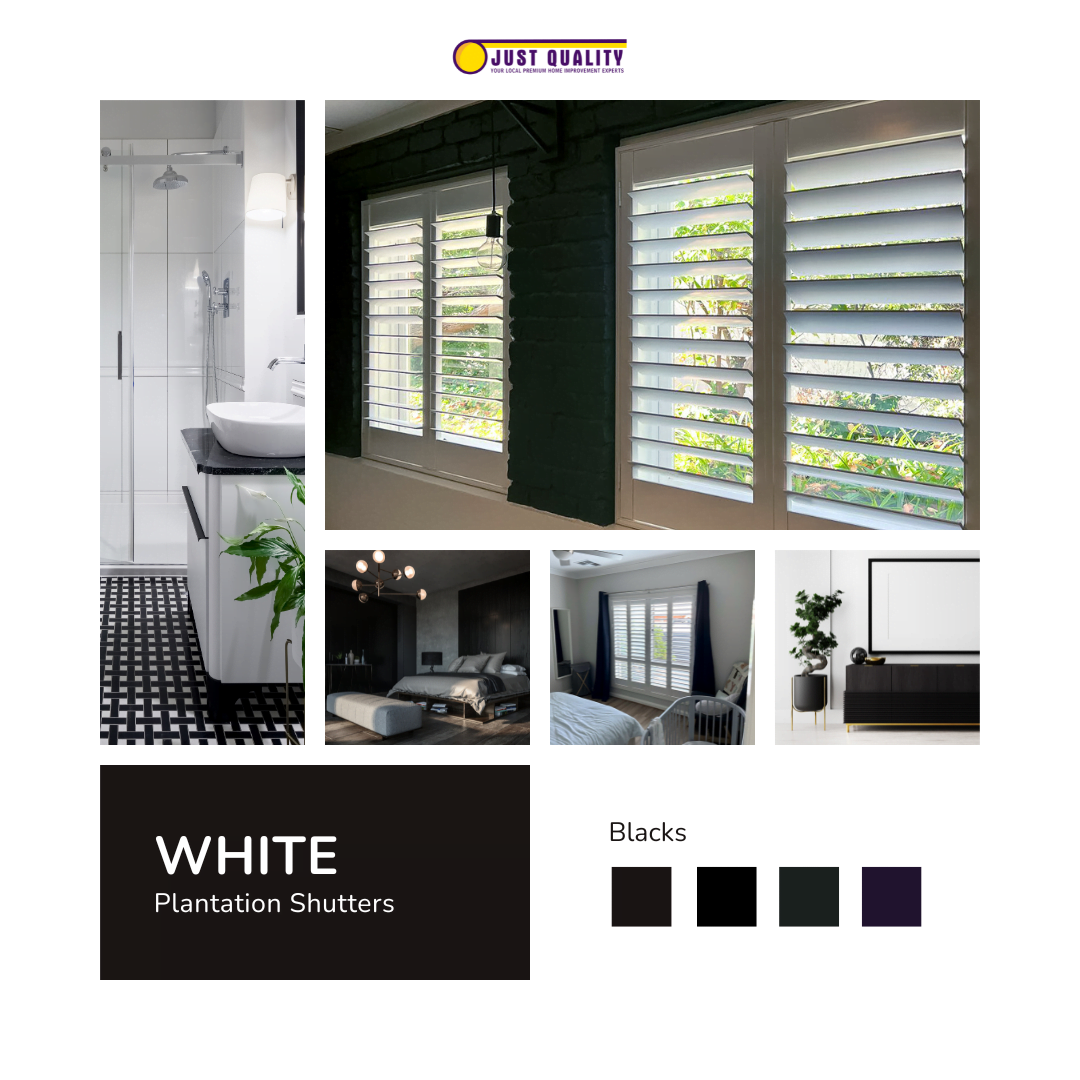 Black and white is timeless and modern, elevating your space with the contrast
and making it stand. It's also great for those who are looking for a simple black-and-white aesthetic in
their modern home.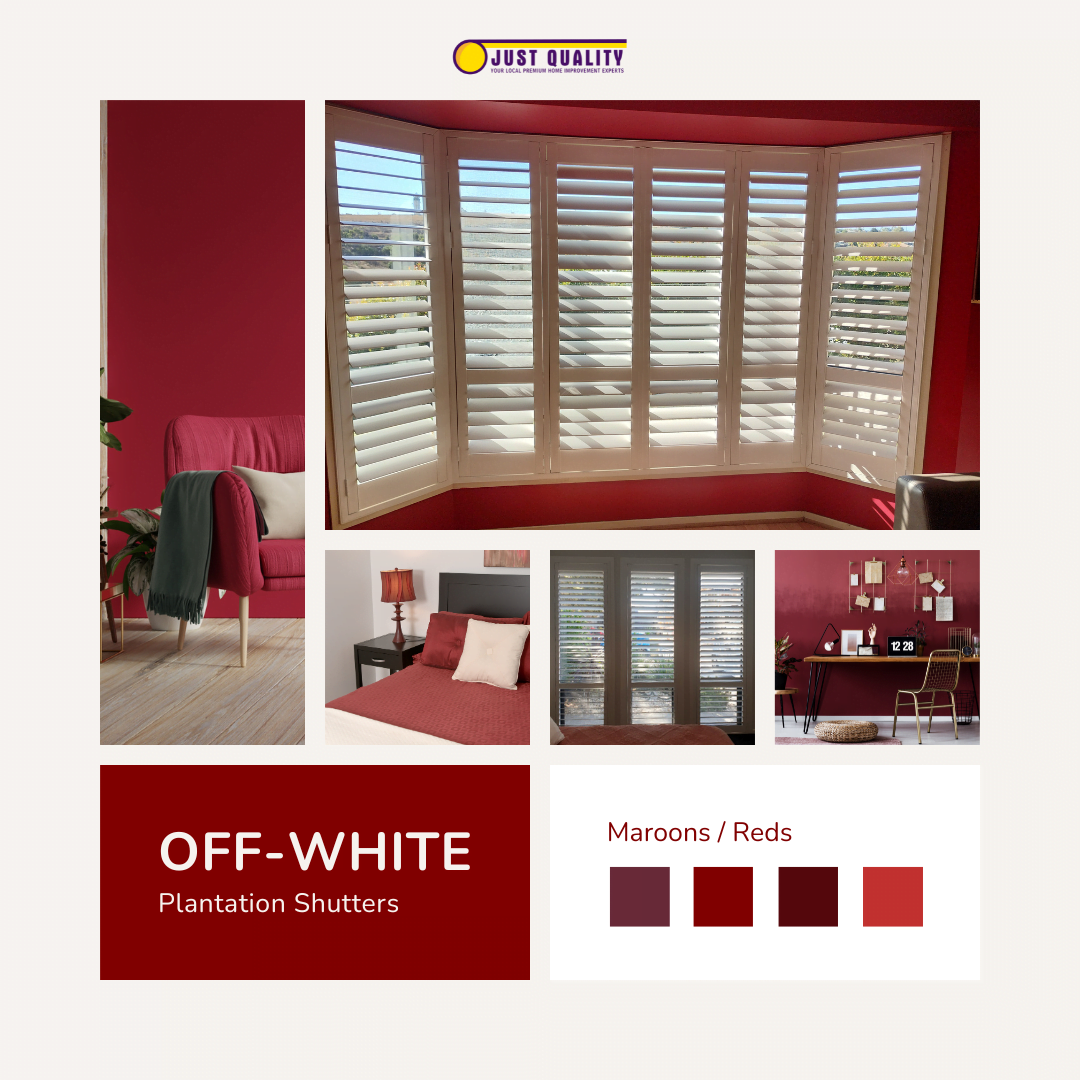 Pairing dark reds with our off-white plantation shutters adds boldness to any room,
creating a dynamic atmosphere for your space. Because of this, however, it should be used with caution
as too much dark reds can change the tone of your room.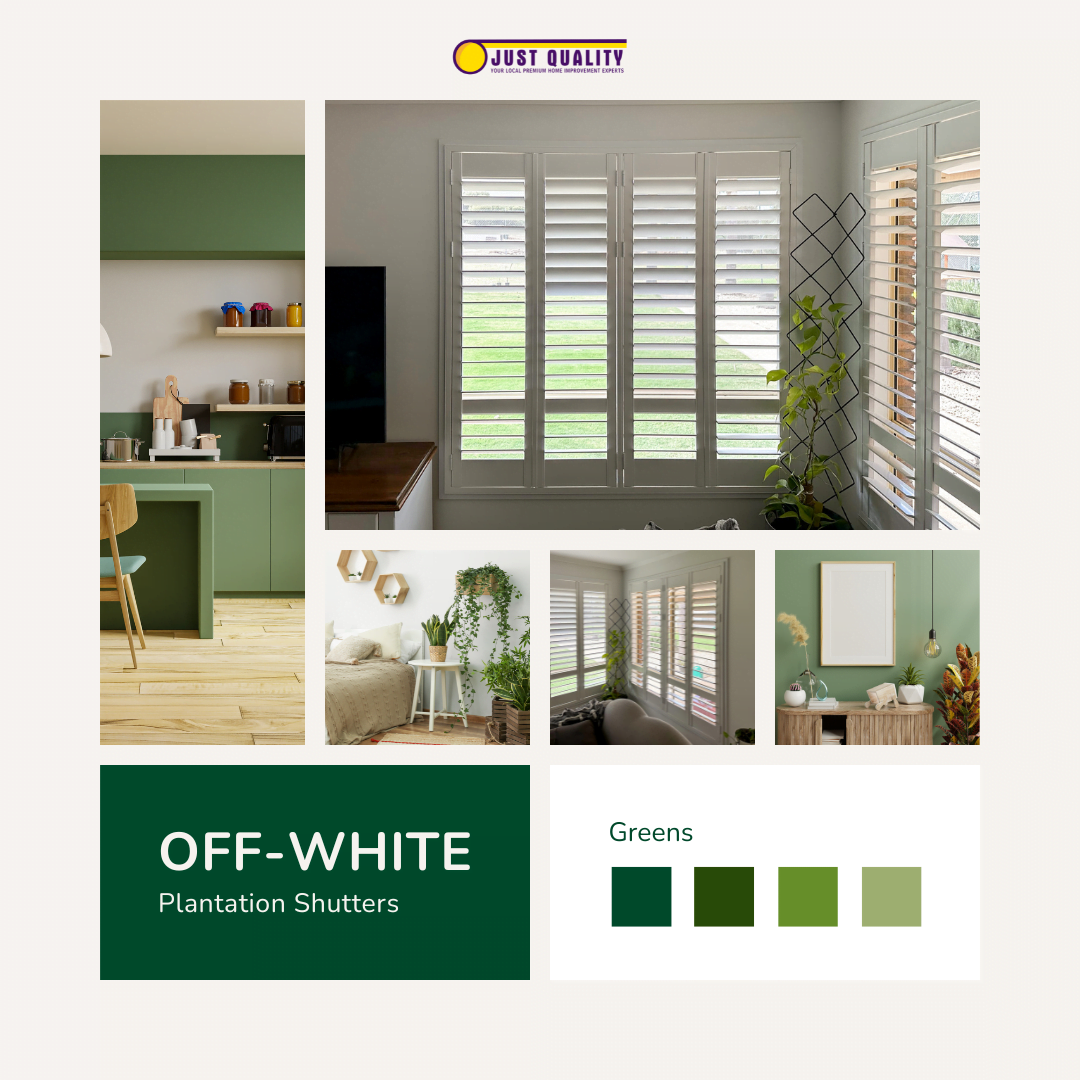 Greens and off-white will help add a refreshing element to your home.
The contrast between the two adds clean lines and creates a crisp, energising space.
As green is associated with nature, it also represents growth and new beginnings
Choosing the right type of white for your room is an easier process thanks to the help of our guide. As our two shades of plantation shutters are custom-made and measure to fit, finding the right type for your home is a simple process. Here at Just Quality we offer white and off-white;
To book your free on-site assessment and measurement, please call us on 1300 813 813 or make an enquiry online via our website here